GUEST AUTHOR: Beth E. Widdows

Beth took an early retirement from the phone company in late 1996, as the Company was undergoing changes which would have required her to move to another state. At that time, she followed one of her dreams by beginning the search for the dog she had always wanted. After researching the breeds, she narrowed her search down to the West Highland White Terrier and a couple of other similar breeds. She then located the local Westie Club and met future friends while learning first-hand just what a Westie would be like. A little more than a year later, she had the good fortune of finding the perfect puppy who she named Briarcliff Golly Miss Molly.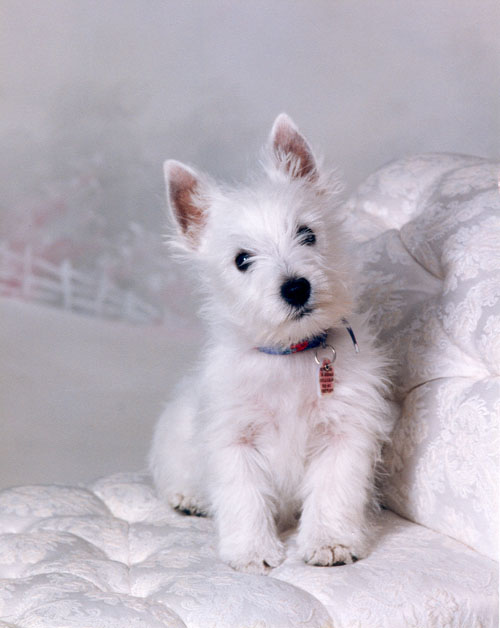 Miss Molly Marie, Age 14 weeks
Molly started school when she was 14 weeks old and has been "in training" her entire life. But initially this training was more for "mom and baby" bonding as opposed to any thoughts of competition.

When Molly was six months old, Mom accepted the position of Rescue Chair for the Michigan Westie Club. At the time, the Club did only referral services but within a year or so, Mom began fostering. She and Molly shared their life with a series of Westies and Molly became a wonderful foster sister, helping the dogs settle in, learn housebreaking and socialization. When Molly was three years old, a little boy came into Rescue. He had been abandoned in a plastic kennel in a Detroit alley. He arrived very frightened, especially of men. After some foster care at another foster home, he went to an adopter but the placement did not work out due to his continued fear of men. So he came back and went for a three-week ride in the cab of a truck with a male truckdriver via Rolling Rescue. His story remains on their website Rolling Rescue Success Story to this day.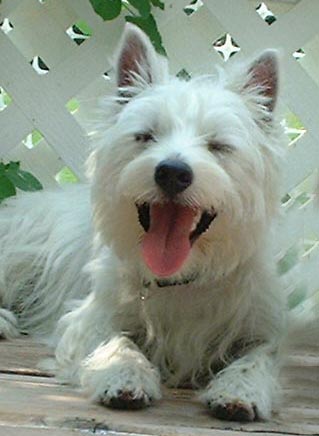 Glennie on adoption day, age 9 months.
Glennie returned to Rescue and this time fostered with Beth and Molly. They began a program to help Glennie by taking him on daily outings to nurseries, hardware stores, pet stores, mall fronts, and anywhere else that dogs are allowed. He followed Molly's lead and learned that these strangers, often men, were always giving him cookies and admiring him. Over time he lost all fear of men and, while he will always be shy, he now warms up to everyone quickly. A short time later, Miss Molly adopted Glennie and then Mom followed suit. Glennie was entered into school to continue his socialization and before long started Agility classes to help him gain self-confidence and independence. After about a year, they went through a period of treating separation anxiety but that resolved fairly quickly. When Glennie showed that he did not like black dogs, they arranged to foster a little black puppy. This helped Glennie understand that color didn't matter and he got over his issues with black dogs.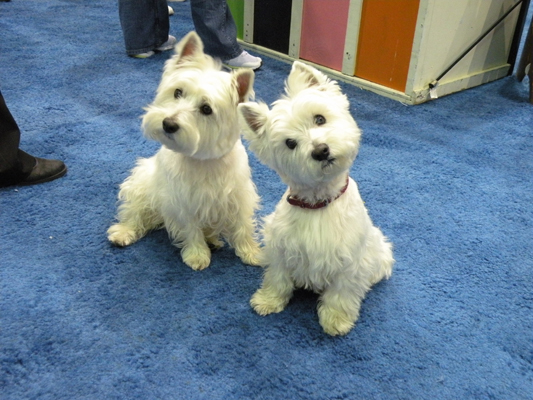 Glennie and Molly at Cobo Hall Terrier Races

Molly and Glennie did a lot of fostering in the next few years. And they also entered competitions in many activities. Together they have titles in Agility, Rally, Obedience and Earthdog and have had a lot of fun in the process. Miss Molly (along with Beth) was on the front page of the Detroit News in February 2009.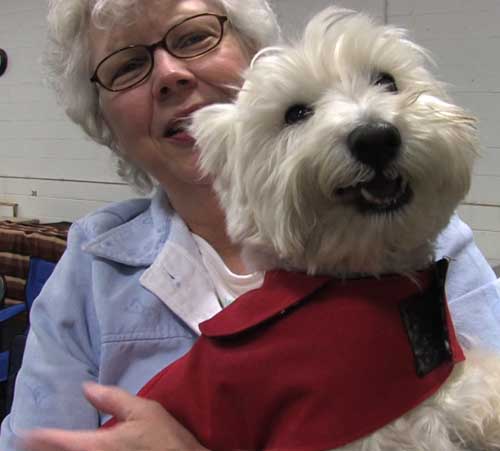 Click on the photo to see Molly's CDX (open obedience) final leg.
In early 2006, Beth received a Rescue call and rushed out to pick up a sick puppy from a family who wanted to surrender him. Jake arrived at 13 weeks of age and still weighing just over 3#. Jake had been purchased at a pet store and came complete with a case of Kennel Cough. He had been sick the entire time they had him and each little rib showed. Shortly afterwards, he ended up in the hospital with pneumonia. It was a harrowing time but in the end, Jake survived and became the third Westie in the family.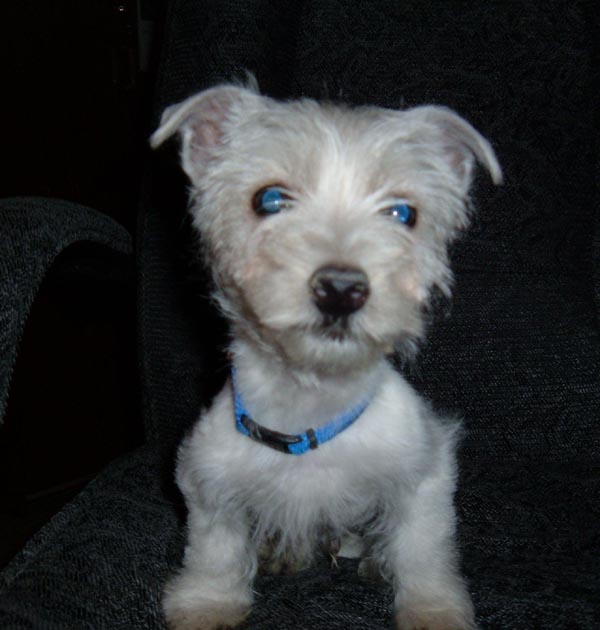 John Jacob, Jumpin 4 Joy
Click on the photo to see a photo journal of his early months
Jake is busy learning new skills; he has started his performance career and currently has titles in agility, rally, obedience and earthdog. We also see tracking in his future. But most of all, he is a happy little boy who approaches life with vim and vigor!

Beth's expertise was learned through "doing" by raising her three Westies and training them in the various sports. And she also has learned a lot through a dozen years of Rescue work and experience fostering many dogs, each with their own issues.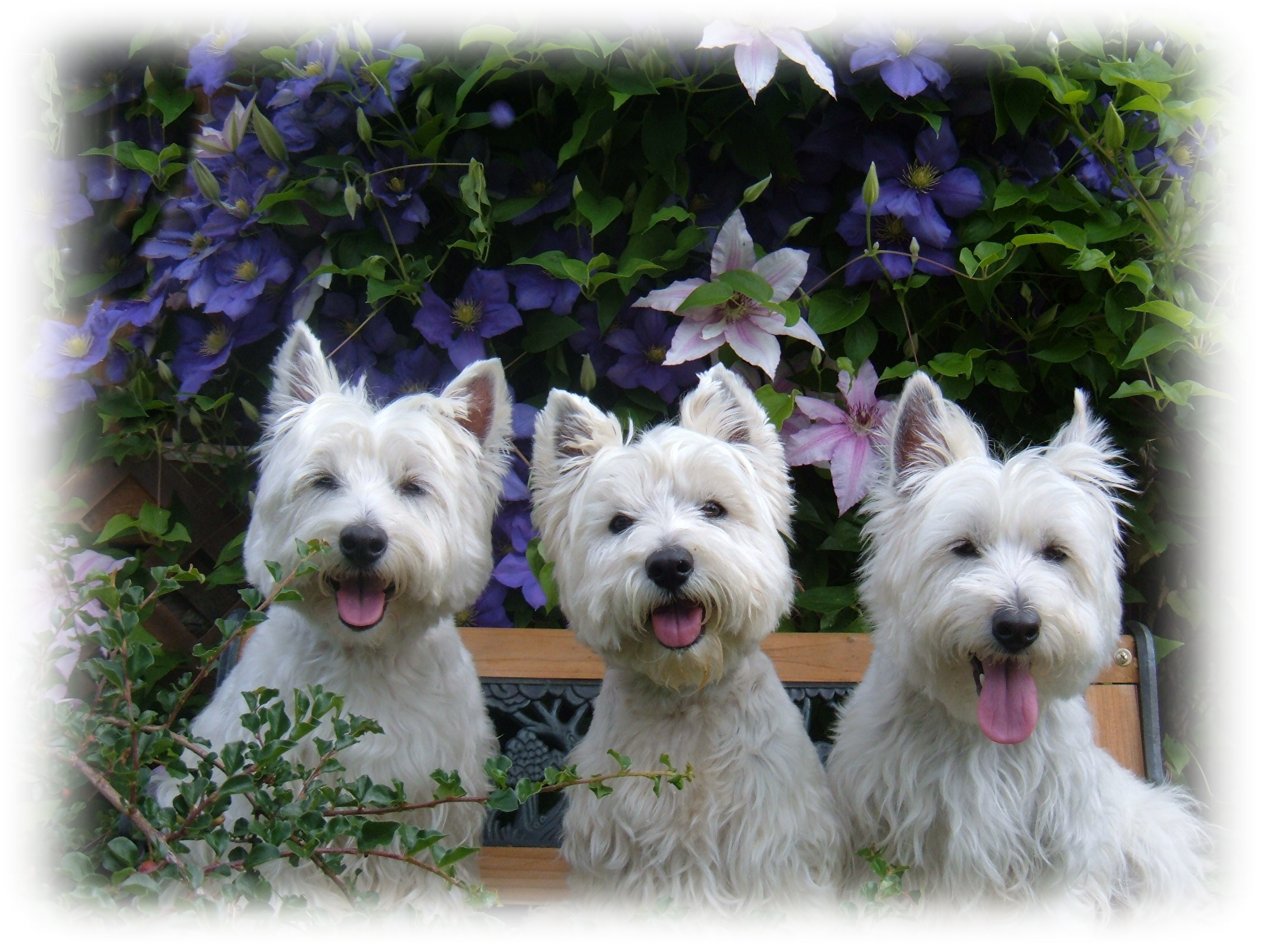 Glennie, Molly, Jake 2009


2/2010