CONSULTATIONS WITH DEB

As an "all breed" behaviorist, I work with all breeds and have owned numerous breeds. Many articles written by me are available on the "articles" page. You will find these articles very helpful and enlightening. My approach is not just to provide the ABC's of how to handle a situation. Rather, to provide you with an understanding of WHY the behavior is occuring in "dog speak". Most times people think they are being very clear in what they are telling a pup or dog, but they are communicating in "human speak". The pups and dogs only understand "dog speak" and often what you are saying is actually telling the dog something very different or possibly even reverse from your intent.

What I do is bridge the "language barrier" between the dogs and their people. People can learn to communicate in a manner the dogs can understand. Moreover it is crucial to understand the basic nature of a dog. Many times, an owner's expectations are unrealistic and beyond the dog's ability to comply with our wishes and desires in the time frame you expect, if at all. My articles will give you a good sense of who I am and what I do.

If you want to learn how to understand your dog and learn how to communicate with your dog, I am the person who can help you achieve these goals. It is this communication, along with my methods for approaching behavior and training issues that will help you be successful with your dog. My ultimate goal is to help enrich your life with your dog and to enrich your dog's life with you.<
FEE SCHEDULE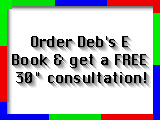 | | |
| --- | --- |
| E-MAIL CONSULTATIONS: | Inquiries are as follows: |
$20 per issue addressed
$100 will afford you unlimited e-mail consultatons for 1 month


PLEASE NOTE: Phone consultations are often the most productive use of your time and money. I will be able to glean more from your verbal descriptions than you would be able to provide in an e-mail. Additionally, I am able to ask questions for clarification during the consultation. This can help us get to the crux of an issue quickly; and, thereby, the solution(s) and recommendation(s) quickly and effectively.


| | |
| --- | --- |
| PHONE CONSULTATIONS: | The following fees will be applicable: |
$60 per hour between the hours of 8:00 a.m. and 5:00 p.m. (CST)
$80 per hour if "before or after" the above times

Subsequent phone consultations will also fall within this fee schedule. Each paid phone consultation also provides one 15 minute follow up phone consultation from me, at no additional charge, after payment has been received.
| | |
| --- | --- |
| IN-HOME CONSULTATIONS: | $100 PER HOUR (IF within a 25 mile radius of my home. If beyond this scope, an applicable time and travel expense will be added). |
You may wish to set up a series of "in-home" consultations. If so, there will be a "unit price break" which I will discuss with you when we schedule the consultations.
I am also available for travel consultations. The fee (inclusive of travel expenses) for these services can be discussed by phone
Contact Me
Telephone: 903-848-0851
Please be sure to use an appropriate Subject Line on your email