MEET MY DOGS!!!
This article was originally written for "WHWTCA Spotlight on Performance - Winter 2003" with ongoing title revisions


Beowulf & Treasure
TWICE BLESSED . . .
BEOWULF, THE LIGHT OF MY LIFE
TREASURE, MY FANTASY FULFILLED
Many dog people can own dogs for years. For everyone, some are more special than others. However, few people are ever blessed with what I call a 'soul dog.' There are not adequate words to describe a soul dog. Someone who has never had a true soul dog cannot understand what the term means. But, anyone who has ever been blessed and had their lives changed in that special way KNOWS what the term 'soul dog' means.

It took me years to come close to an explanation other people could understand. The best way I can describe what I mean about a 'soul dog' is to say: 'All of my dogs live in my HEART....Beowulf lives in my SOUL!!!'. I always believed that for whatever reason, God chose to send me one of the most special of His fur angels . . . my Beowulf. Also, I knew no dog I ever owned could touch Beowulf's special soul dog place. Amazingly, God saw fit to bless me with a second soul dog . . . my Treasure.

Here is their story.


Almost 16 years ago, I got Beowulf on the day I sent my little rescue Cairn to the Rainbow Bridge. I am so glad I did not know then what I know now about the proper way to acquire a pup. If I had, Beowulf would never have come into my life.

June 29, 1987 - May 8, 2004
BEOWULF CDX, TDX, ME, CG, TT, CGC
Also, holder of the WHWTCA VERSATILE DOG EXCELLENT AWARD

Believe me when I say, I was NOT prepared to own a Terrier. At 8 months of age, I sought out a pet obedience class for self-preservation . . . mine and Beowulf's! After a year of pet obedience classes, I heard someone mention an obedience fun match. Being the competitive person I am, that is all it took. Beowulf and I were off and I have never looked back.

Back then (late 80's), the most common obedience training method was the harsh collar corrections. Unfortunately, some people still use this method. I thought this was how training was done even though I disliked it. Add to this the fact that many instructors (then and now) felt and feel the only way to handle a 'terrier' is to be even harder and harsher on them than other breeds.

When I think back on our early competition training and career, it is with chagrin, embarrassment, and utter shame. My wonderful boy was so full of attitude (Westitude) and heart. Beowulf relished the chance to use his incredible mind. Unfortunately, the initial methods used on Beowulf caused him to lose his love and enthusiasm for learning, competing, and performing. We literally plodded through his first title, Companion Dog (CD). My boy, so full of everything, slugged through seven competitions to earn his CD. Beowulf, who had started off heeling as a 'forger' (being in front of heel position), actually NQ'd at one trial for 'lagging' (being behind heel position).

During this agonizing time, I saw a few (not many) other dogs who loved competing and what they were doing. They had the same zest Beowulf had started off with in our first obedience class. I wanted to go on competing, but vowed I would not continue IF Beowulf could not regain his natural attitude and enthusiasm for training and competing. After much research, I decided to go back and 'retrain' everything. This meant starting from scratch as if Beowulf had never even heard the word 'sit.' And, it meant using only positive reinforcement methods. Even these methods still meant collar corrections. The difference is they were not as forceful as the previous ones and they were called 'motivational pops.' This meant you were happy and upbeat. When you did give a correction, you immediately followed it with happy and upbeat praise and reward. (Note: I no longer use corrections of any form in training the dogs.)

Thank goodness, Beowulf has an indomitable heart and incomparable soul. He responded phenomenally to the new approach. He thrived. Beowulf found himself again and he salvaged me. Moreover, something truly remarkable occurred. Beowulf became my teacher! He has taught me most of what I know. I will say, unabashedly, Beowulf is a far more intuitive, talented, and insightful instructor than I can ever hope to be.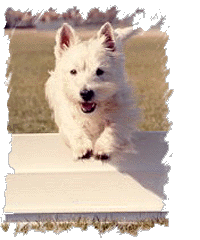 Beowulf went on to earn many more titles and awards. Most importantly, he became a true ambassador of the breed. He has blessed countless lives. He became a teacher to many people and many dogs in all aspects of his life. With all Beowulf achieved, I still feel his most impressive achievements were changing me in a truly indescribable way and touching so many people's lives as only he can.

Beowulf is my soul dog. He is the light of my life, even as he is in the twilight of his life. While most people will not remember me or my name, there are more people than I can count who will long remember how their lives were touched by having known BEOWULF.

I have truly been blessed to have a second soul dog sent to enrich my life.

Here is Treasure's story.



Feb. 8, 1996 - Nov. 3, 2009
AM. & INT'L CH. RIME'S FANTASY FULFILLED
VCD2, CDX, TD, MX, MXJ, MXP2, MJP2, SE, CG, TT, CGC
Also holder of the WHWTCA MASTER OF VERSATILITY

Treasure is truly a prodigy. There is no other explanation for how she has been able to achieve all that she has at such a young age I did set out to create a 'super dog' using all I had researched and learned over the years. But all of my methods and efforts can only account for a small amount of her accomplishments. Granted, genetics . . . her breeding accounts for much of who she is. I will never be able to thank Anne and Sil Sanders (VERSATILE RIME Westies) enough for entrusting me with one of their most special babies. However, some of what Treasure is about, who she is, what she has achieved can only be attributed to the 'specialness and uniqueness' God saw fit to imbue her with.

The biggest challenge I have encountered owning, training, and competing Treasure has always been trying to come up to her level. This meant, trying to find ways to give her what she needed to fulfill all she was capable of doing and all I felt she was intended to accomplish. This was an enormous challenge for me. I had never encountered a dog with the thought processes and mental acuity of Treasure. Her physical structure was beyond compare. Then, add to the equation the fact that Treasure 'loved' learning. She thrived on it. From such an early age, Treasure could not get enough of doing things with a purpose. Just playing for the sake of puppy play was not enough. She needed more. When I wasn't giving her the challenges she wanted, when I was not giving her a chance to use her mind...she would take matters into her own hands. Treasure would find a way to teach me how to do a 'play thing' with a challenge to it. Treasure is 7 years old and I am still striving to just meet her half way.

The best way I can describe Treasure is: NOTHING IS TOO MUCH AND ALL IS NOT ENOUGH!!!!

Let me begin her saga by stating my most basic tenet I have held to throughout all of Treasure's training. I pledged to train Treasure through her entire competition career with NO CORRECTIONS . . . NONE . . . NADA! I can honestly say, I have held 100% true to this commitment. Now, don't get me wrong. Treasure is an over the top dog. She had to be to have achieved all she has. And, she is a 'terrier bitch.' So, yes, there have been times I have had to admonish her for 'behavior' issues. But, never when 'training' in any shape or form.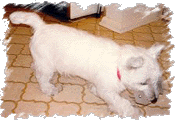 (shown here at just under 12 weeks of age)

Treasure's play training sessions were never more than 10 minutes long. I did 3-4 of these per day. So, while all of this sounds terribly time consuming, it actually totaled only 30-40 minutes per day. Now, this excludes the tracking and the trips outside the home environment. Those took more time. Also, Treasure did have several all out 'play' times with me and/or the other dogs every day.

All of this became so much a part of Treasure and she loved all of it so much that when she got older, Treasure would actually ASK to be trained. She developed a special way to tell me what 'specific session' she wanted to do. If I was involved in some major task and unable to accommodate her at exactly that moment, Treasure would keep asking. She would go through the entire repertoire of 'asking signals' . . . hoping one would work.

To this day, Treasure still asks for me to do something (or several somethings) with her everyday. She is unrelenting. The only way to get any peace is to stop and do some little session with her. I created a demon, but what a remarkable little demon. To be honest, this was one aspect I never foresaw when we began our adventures. You would have to see her do this to truly appreciate what I am talking about. Treasure is insatiable, almost obsessed. It seems to be 'essential' for her to use her mind and her body every day.

Here is a recap of Treasure's unbelievable achievements to date:


Born: Feb.8, 1996
Certified for tracking: Sept., 1996.
Certificate of Gameness (CG): Nov., 1996. Also, the fastest dog in the Certificate Class.
Tracking Dog (TD): Dec., 1996
Canine Good Citizenship (CGC): April, 1997
Junior Earthdog (JE): May, 1997
International Championship (INT'L CH): June, 1997. Best in Show. Three Group One's
American Champion (AM.CH): Oct., 1997
NOTE: Treasure earned both of her majors at Montgomery County. Winner's Bitch at Devon & Best of Winners at MCKC (the Nat'l Specialty). At that point in time, she was the only dog on the WHWTCA Nat'l Specialty BOW trophy with any working titles after her name!
WHWTCA Versatile Dog Award ...earned Oct., 1997
Temperament Tested (TT)...Dec, 1997
Companion Dog (CD)...March, 1999
Novice Agility (NA)...April, 1999
WHWTCA Versatile Dog Excellent Award: earned April, 1999
Novice Agility Jumpers (NAJ): May, 1999
Open Agility (OA): June, 1999
Open Agility Jumpers (OAJ): Oct, 1999
WHWTCA Annual Novice Obedience Award...1999
Senior Earthdog (SE): March, 2000
Companion Dog Excellent (CDX): March, 2000
Agility Excellent (AX): May, 2000
WHWTCA Master of Versatility Award: earned May, 2000 at only 4 years of age
Excellent Agility Jumpers (AXJ): July, 2000
Versatile Companion Dog 2 (VCD2): Jan, 2001
Master Agility Excellent (MX): May, 2001
Master Excellent Jumper (MXJ): Sept, 2002
Novice Agility Preferred (NAP): Oct, 2002
Novice Jumper Preferred (NJP): Oct, 2002
Open Agility Preferred (OAP): Oct, 2002
Open Jumpers Preferred (OJP): Oct, 2002
Agility Excellent Preferred (AXP): Dec, 2002
Excellent Jumper Preferred (AJP): Dec, 2002
WHWTCA Annual Excellent "B" Agility Award: 2002
Master Excellent Jumpers Preferred (MJP): Oct, 2003
WHWTCA Annual Excellent "B" Agility Award: 2003
Master Agility Excellent Preferred (MXP): Feb, 2004
Master Agility Excellent Preferred 2 (MXP2): July, 2004
Master Excellent Jumper Preferred 2 (MJP2): Oct, 2004
Will there be another Westie who meets or exceeds all Treasure has accomplished at the 'young age' she has? There is no doubt there will be. I hope Beowulf's and Treasure's sagas inspire other Westie owners to help their Westies 'be all they can be'. One thing I can assure you is there is nothing to compare with the fun and pride you will have when you let your dog explore the world of performance events.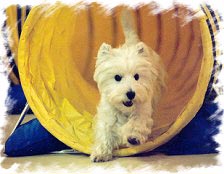 All I ask is that you have FUN, that you enjoy and relish in each and every aspect of your dog as they engage in these activities. If you are not enjoying and having fun, there is no way your dog will. Keep a sense of humor, more for your mistakes than your dog's. Recognize their creativity as a sign they 'just need to have some fun', release some energy, tension, or anxiety. OR, you are not being interesting enough or clear about what you are asking of them. I truly believe WE do not train the dogs, rather they teach and train us . . . if we will only be open to hearing what they are telling us. Moreover, the dogs are exceedingly patient and only use positive reinforcement. When WE get it right, the dogs reward and reinforce our performance with the behavior we have been asking of the dog. Photo above by Tien Tran

The Westies are NOT stubborn. Their owners are too often not fair in their expectations or they are not being clear in what they are training or asking of the dog. If you do not get what you are looking for, look to the source . . . YOU and your training methods. Also, realize that not every dog can take Best In Show at Westminster, not every dog can earn an OTCH, a TDX, a CT, a MACH, or a ME. Some will be average at many things, some will excel at only one. This is no different than it is with children. A family of three children will all have their own areas of interest and levels of excellence. Also, to be honest, I like the idea of a dog who can be a "jack of all trades, master of none." Enjoy every aspect of your dog, love them for WHO they are. Allow them to become the dog they, individually, are intended to be.

One perfect example are the 'rescue dogs'. When they appear in our Annual Rescue Parade, they are awarded a certificate as a CHIME. This stands for CHampion In My Eyes. When you consider what so many of those dogs overcame to be the loving family dog they become, many who had never seen a toy and did not know how to play. Or, the ones who didn't know what loving human touch meant. There is no doubt they are Champions in their minds and in their new owners' hearts.

Whatever your dog does and whoever they are . . . they should be a source of pride for you. Do consider exposing them to various doggie activities that can further enrich their lives and yours. Above all, Beowulf, Treasure, and I 'challenge' you to listen to your dog, let them teach you the life lessons within them. Let your dog help you to become 'all you can be' as a responsible, loving, caring, and interactive owner. Allow your dog to 'enrich' your life as only they can.

Deb Duncan, Beowulf, & Treasure




To see more photos, please click HERE